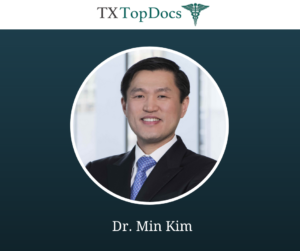 Min Kim, M.D. Has Been Reviewed & Approved By TX Top Docs
TX Top Doc, Dr. Min Kim is committed to providing the best thoracic surgical care.  Dr. Kim is a board certified thoracic surgeon who practices in the Houston area. He specializes in the surgical treatment of diseases involving the chest. This includes the treatment of the airway, lungs, pleura, diaphragm, esophagus, chest wall and mediastinum.
"As a resident in Houston, we are fortunate to have outstanding general thoracic surgeons at some of the best institutions in the world. I am lucky to be at one of the best hospitals in the country. As the head of the division of thoracic surgery, we have created one of the best programs in the country, being able to provide a high quality of care using the latest technology. We have strived to provide exceptional care for patients with thoracic surgical disease," says Dr. Min Kim.
Dr. Kim has mastered the use of robots in the treatment of thoracic surgical disease. This allows him to perform complex operations in a minimally invasive fashion using the latest and most advanced technology. This also allows patients to have faster recovery from their surgery.
"I love seeing patients after surgery to find out that I was able to improve their lives," says Dr. Kim
Dr. Min Kim received his undergraduate degree from Cornell University and his medical degree from the Johns Hopkins School of Medicine. During medical school, he received the prestigious Howard Hughes Fellowship to perform research at the National Institutes of Health, where he was presented with Recognition for Outstanding Research.  He completed his general surgery training at prestigious Harvard University affiliated Beth Israel Deaconess Medical Center and cardiothoracic surgery fellowship at M.D. Anderson Cancer Center.
Dr. Kim is currently Vice Chair of the Department of Surgery and Head of the Division of Thoracic Surgery at Houston Methodist Hospital in Houston, Texas. He is an expert in minimally invasive robotic thoracic surgery and thoracic surgical oncology.  As of May 2022, Dr. Kim has performed 1250 robotic thoracic surgery procedures.
In addition, he has been appointed a David M. Underwood Distinguished Professor of Surgery, Full Member of the Houston Methodist Hospital Research Institute and Professor of Surgery at the Institute for Academic Medicine at Houston Methodist.  He also holds the title of Associate Professor of Surgery and Cardiothoracic Surgery at Weill Cornell Medical College and Adjunct Associate Professor of Surgery at Texas A&M University.
To learn more about Dr. Kim, please click here.
---
About Us
TX Top Docs is a comprehensive, trusted and exclusive  healthcare resource featuring reviewed and approved Top Doctors and Dentists in Texas online in an easy to use format. TX Top Docs only reviews and approves providers based on merit after they have been extensively vetted.
TX Top Docs is a division of USA Top Docs which allows patients to meet providers online before making their appointment.
For more information, e-mail us at [email protected] and/or visit www.TXTopDocs.com.
You can also follow us on Facebook,  Twitter, & Instagram.