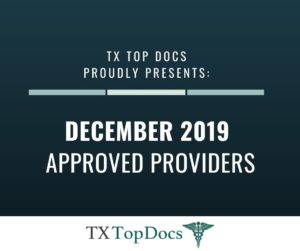 TX Top Docs and TX Top Dentists are proud to present the following recently reviewed and approved providers for December 2019.
TX Top Docs Include:
Cardiology
Dr. Nina Asrani
Dr. Armita Atashband
Dr. Sherwin Attai
Dr. Yamil W. Aude
Dr. Amilcar Avendano
Dr. Omar Awar
Dr. Ramy Ayad
Dermatology
Dr. Adelaide Hebert
Dr. Richard Hope
ENT (Otolaryngology)
Dr. Carlos Ayala
Dr. Bradford A. Bader
Dr. Arunkumar N. Badi
Family Medicine
Dr. Faith D. Atai
Dr. Nicholas O. Atudonyang
Dr. Michael S. Auvenshine
Dr. Angelina I. Ayoola
Dr. Mohammad A. Azad
Dr. Rommana Aziz
Gastroenterology
General Surgery
Dr. Jason Ashford
Dr. Marvin Atkins
Gynecology
Infectious Disease
Internal Medicine
Dr. Asma Ashraf
Dr. Javaria Asif
Dr. Shamaila A. Aslam
Dr. Adib Asrabadi
Dr. Meria Aulds
Dr. Koko Aung
Dr. Myo Aung
Dr. Jane Ayala
Dr. Jose M. Ayala
Dr. Miguel A. Ayala
Dr. Roya Azadi
Dr. Nikolay Azarov
Dr. Ahsan Azhar
Dr. Sameh Aziz
Dr. Wesam Sabri Aziz
Dr. Neeraj Badhey
Dr. Oghenetega Badidi
Dr. S. Murthy Badiga
Medical Oncology
Neurology
Dr. Ahmad Saeed Ata
Dr. Strahil T. Atanasov
OB/GYN
Dr. Antonio Asis
Dr. Sasan Askari
Ophthalmology
Dr. Brian C. Au
Dr. Patrick P. Avet
Orthopedic Surgery
Dr. Cameron T. Atkinson
Dr. Ioannis Avramis
Dr. Daniel Babbel
Pediatrics
Dr. Christina Ateek
Dr. Lakshmi V. Atkuri
Dr. Anissa August
Dr. Geshia Austin
Dr. Michael Austin
Dr. Felipe M. Avila
Dr. Karin G. Ayer
Dr. Sohail B. Azadi
Dr. Lynn Azuma
Dr. Tyeshia Babineaux
Dr. Edgar Bacares
Dr. Mohamad Hassan
Plastic Surgery
Dr. John Ayala
Dr. David Azouz
Rheumatology
Surgical Oncology
---
About Us
TX Top Docs is a comprehensive, trusted and exclusive  healthcare resource featuring reviewed and approved Top Doctors and Dentists in Texas online in an easy to use format. TX Top Docs only reviews and approves providers based on merit after they have been extensively vetted.
TX Top Docs is a division of USA Top Docs which allows patients to meet providers online before making their appointment.
For more information, e-mail us at [email protected] and/or visit www.TXTopDocs.com.